The Official Wedding Photographs of Harry and Meghan's Magical Day
The Duke and Duchess of Sussex have released three official photographs, taken by fashion photographer Alexi Lubomirski, showing them basking in the excitement and happiness of their wedding day. Kensington Palace said the couple 'would like to thank everyone who took part in the celebrations of their wedding'.
One intimate black and white image shows Meghan and Harry, soon after they exchanged their marriage vows, sitting on the steps of Windsor Castle's east terrace.
In the heart of the English countryside, in the county of Berkshire, Windsor Castle is a royal residence notable for its long association with the royal family, and for its breathtaking "perpendicular gothic" architectural design. 

With the formal gardens in front of them, the duke smiles as he looks into the camera, whilst the Duchess - who is minus her beautiful veil - is sat on a step below and, whilst still clutching her wedding bouquet, leans on her husband's leg and smiles into the distance.
Knowing the couple and their lighthearted approach to life, I suspect that they have an audience beyond the edges of the photograph who are sharing in the frivolities of the day - we're glad, as it makes for a very natural shot!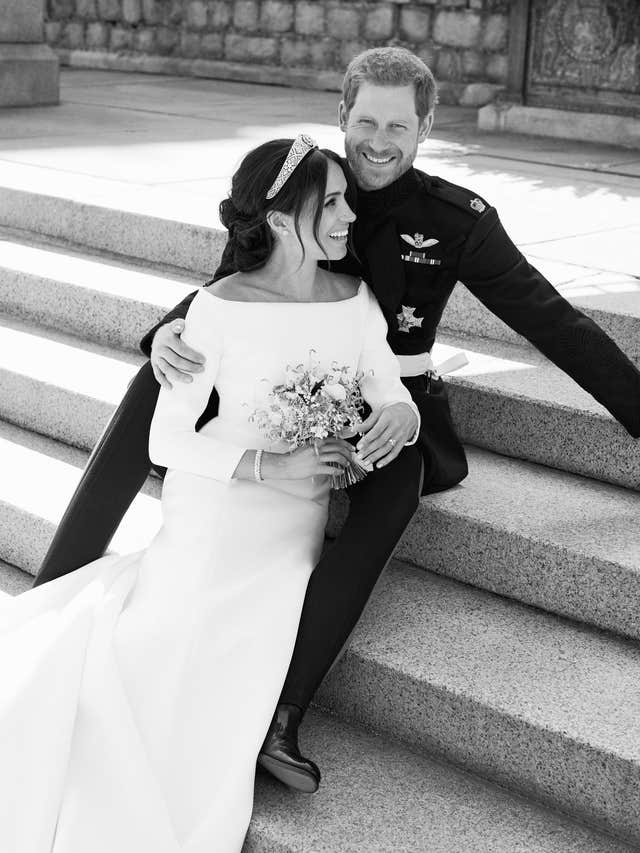 The couple are said to have felt "so lucky" to have shared their wedding day with tens of thousands of well-wishers who gathered to watched their carriage procession through Windsor, and millions of television viewers across the globe.
Another image shows a more formal moment when key family members joined the newlyweds and their bridesmaids and page boys in the castle's green drawing room. The Queen and Duke of Edinburgh are sat on Harry's side of the photograph with the Prince of Wales and Duchess of Cornwall immediately behind the Queen, while Meghan is joined by her mother Doria Ragland, who has been warmly welcomed by Charles and other members of the monarchy.
The Duke and Duchess of Cambridge are on Meghan's side of the photograph and the young bridesmaids and pageboys also feature, with Princess Charlotte sat on her mother's lap and Prince George seated next to them.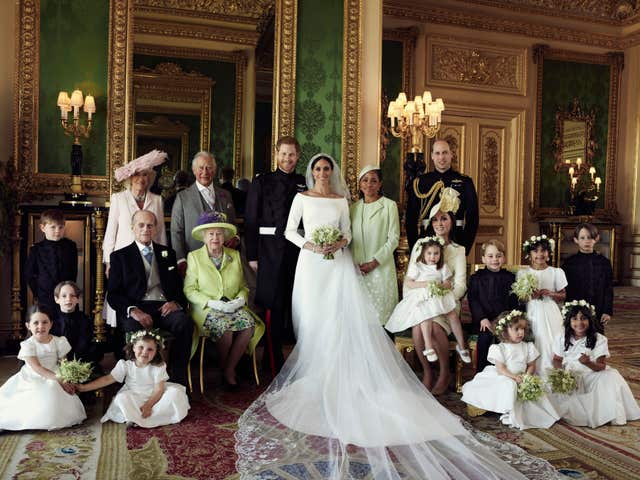 Harry and Meghan's wedding weekend finally came to an end when they were spotted driving into the grounds of Kensington Palace late on Monday afternoon.
A Kensington Palace spokesman said:

"The Duke and Duchess of Sussex would like to thank everyone who took part in the celebrations of their wedding on Saturday. They feel so lucky to have been able to share their day with all those gathered in Windsor and also all those who watched the wedding on television across the UK, Commonwealth, and around the world.
Their Royal Highnesses are delighted with these official portraits taken by Alexi Lubomirski and are happy to be able to share them today. They would also like to say thank you for all of the generous messages of support they have received."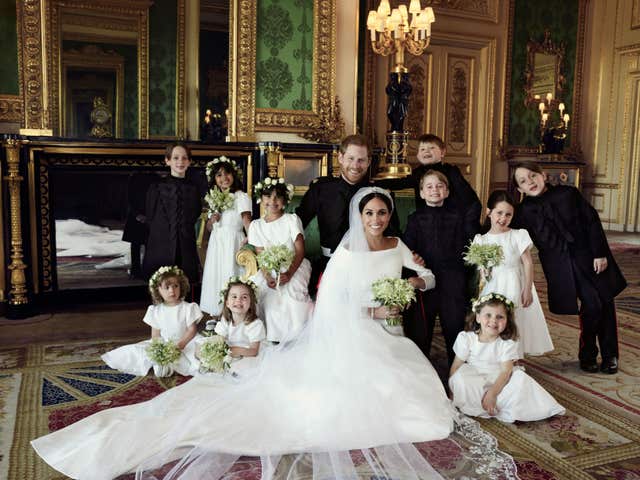 The final picture shows the newlyweds surrounded by their six bridesmaids and four pageboys.
The bridesmaids were Princess Charlotte, aged three, Harry's goddaughters Zalie Warren, two, and Florence van Cutsem, three, and Ms Markle's three goddaughters, Remi and Rylan Litt, aged six and seven respectively, and four-year-old Ivy Mulroney.
The pageboys were Harry's godson Jasper Dyer, aged six, seven-year-old twins Brian and John Mulroney, and four-year-old Prince George.
Harry paid tribute to former mentor and close friend Mark Dyer by requesting his son Jasper as a pageboy, while Meghan publicly recognised one of her best friends, stylist Jessica Mulroney, by choosing her twin sons to take part in the wedding. 
Mr Lubomirski, who also took the couple's official engagement pictures, said:

"It has been an incredible honour and privilege to document the Duke and Duchess of Sussex's inspiring journey of love, hope and family; from the engagement photos, all the way through to the official wedding and family portraits on Saturday. This has been a beautiful chapter in my career and life, that I will happily never forget."