Who will design Meghan Markle's wedding dress? 6 fashion experts make their predictions
It's not long until Prince Harry and Meghan Markle say their vows and unite in matrimony. We now know quite a lot about the nuptials; the bouquet will be designed by renowned florist Philippa Craddock featuring peonies and garden roses, and the cake will be whipped up with lashings of buttercream by Claire Ptak, who runs London bakery, Violet.
But there is one detail that won't be revealed in full until the moment Meghan emerges on the 19th May, and it is perhaps the most exciting of all - the wedding dress, of course!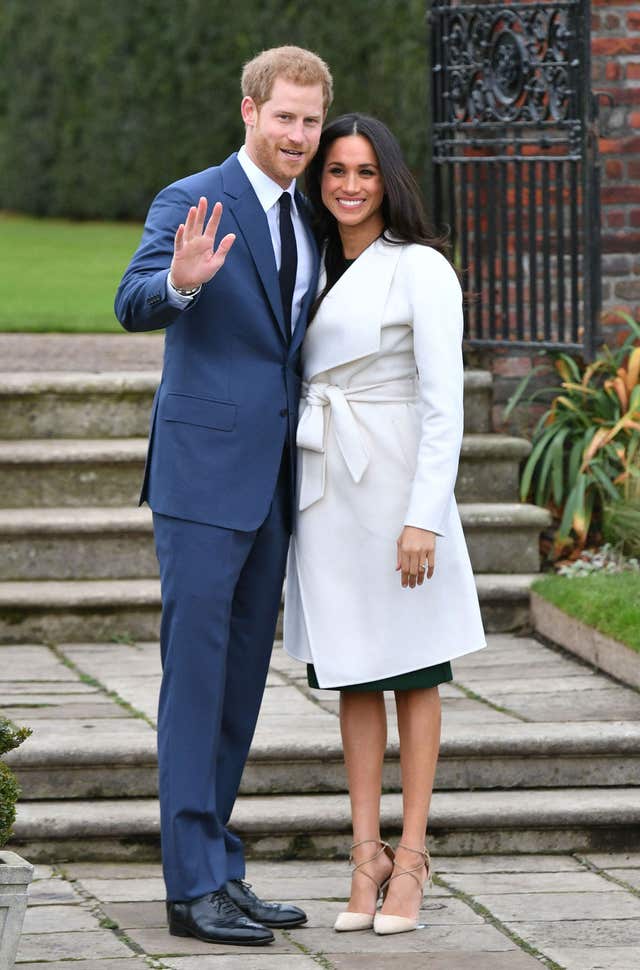 (Dominic Lipinski/PA)

That doesn't mean, however, that we're totally in the dark. Looking at the 36-year-old's public appearances since the engagement was announced – plus her many red-carpet turns as an actress, and the designers she's worn in the past – industry insiders think they've got a pretty good idea of what the gown will look like and who will design it.
Here, six fashion designers and experts make their final predictions on the most highly-anticipated wedding dress of the year…



1. Peta Hunt, Editor at Large at You And Your Wedding magazine
"When Hollywood glamour meets British royalty, we are hoping for style and drama, and I feel – subject to the Queen's approval, of course – that she will go for couturier Ralph & Russo, in a nod to the Commonwealth.
"I am thinking along the lines of a high neck, long sleeved, straight dress, in a soft satin with a huge overskirt in lace, with subtle crystals. It could even be a detachable train, so two dresses for the price of one. It won't be too 'bodycon' and it could have a bow or slash in the back.
"Or could she surprise us all and go for a demure crepe dress with cropped jacket by Stewart Parvin? Think Jackie O, giving a nod to her Suits past."



2. Elbeth Gillis, Bridalwear Designer
"I think Ralph & Russo seems to be the one that everyone is betting on because they're British designers. I think she's going to have a bodice with some lace and beadwork that's quite modern, and then quite a dramatic skirt. Ralph & Russo do beautiful beadwork, and that was a feature on the garment that she wore for her engagement photos.
"It will obviously be in very luxe fabrics, like lace and silk, and in ivory not white – I think she'll surprise everyone if she wears white. I think the veil will be simple and soft, but long."

3. Caroline Arthur, Couture Bridalwear Designer
"My prediction for the likely designer of Meghan Markle's wedding dress is Stewart Parvin. Having personally altered many of his dresses over the last 20 years, I have seen how he takes no shortcuts – even inside the interlining of a gown, where no-one but a seamstress would notice. He remains faithful to the training he received under Donald Campbell and delivers impeccably tailored gowns.
"For Her Majesty the Queen, Stewart has created many outfits that perfectly reflect her own style, whilst never seeking to stamp his 'look' on them. This lack of ego is what, I think, makes Stewart best placed to create the clear vision Meghan will undoubtedly have for her own gown."
Arthur has drawn a sketch of the kind of wedding dress she envisions Meghan will wear. In ivory silk with a chiffon overlay, the one-shoulder gown features a handmade peony on the waist, a nod to the flowers the former actress has said are her favourite.



(Caroline Arthur/PA)

4. Caroline Castigliano, Bridalwear Designer
"Megan is slim and has a wonderful sense of style. I think she will wear a gown with a modern yet classic feel about it. While Megan will want to reflect her own style, I am sure she will also want to respect the Monarchy.
"I have sketched a gown that has a beautiful, deep sweetheart neckline and low V-back with a fitted long sleeve. The skirt is belted to emphasise her slim waist and flows into a full A-line skirt that follows through to the back, with deep pleats and a long train.
"The gown would be in an ivory crepe that is very fashionable now and would drape and flow beautifully. My prediction is Ralph & Russo couture."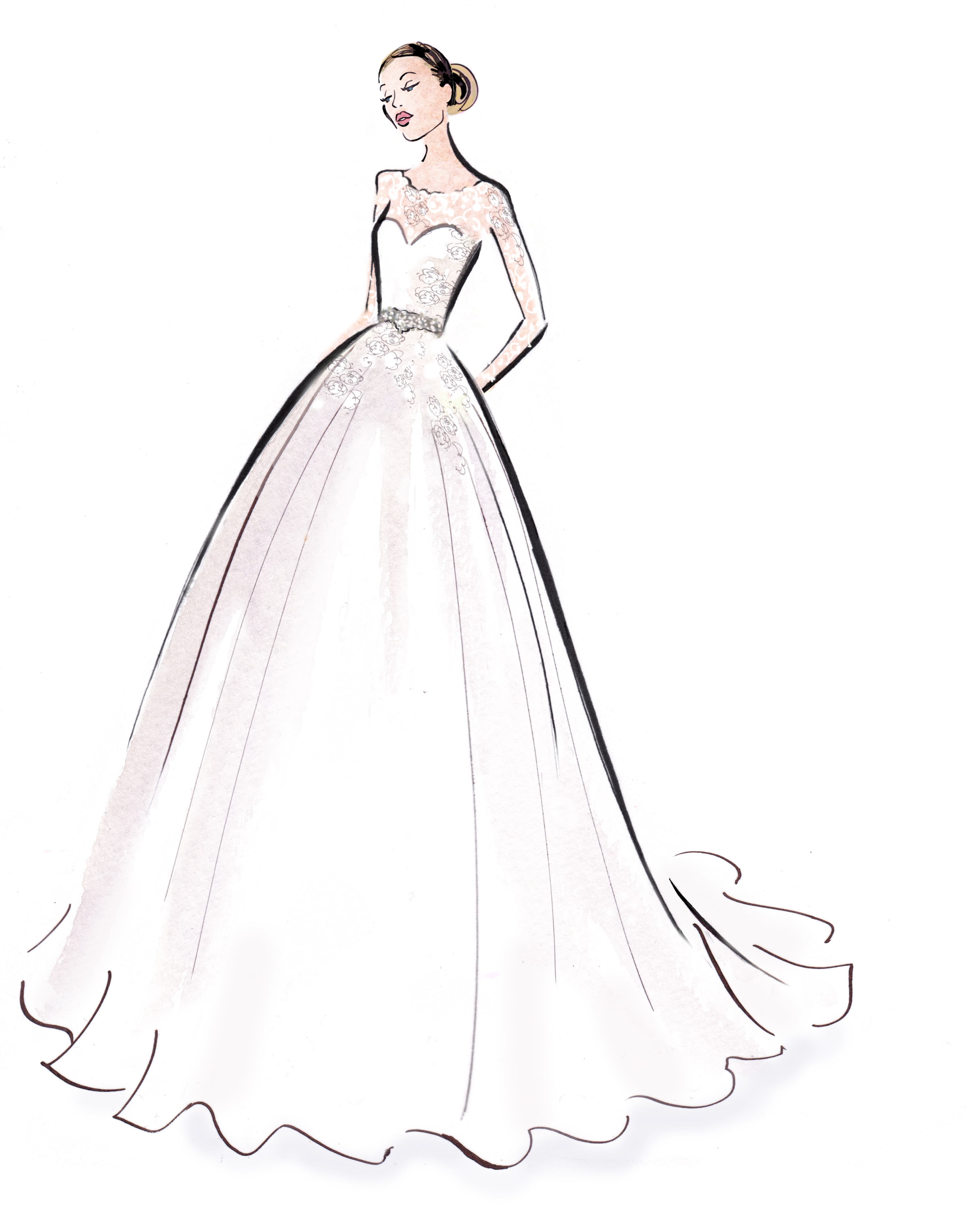 (Caroline Castigliano/PA)

5. Rachel Attwell, Owner and Creative Director of Luella's Bridal
"There has been lots of debating at Luella's HQ about who we think is going to be designing Meghan's dress, and we have decided on Lebanese designer Elie Saab. Renowned for his bold red-carpet designs and cutting-edge catwalk dresses, he is the perfect choice to create a dress with just the right amount of romance to suit a future princess, and glamour pertinent to a modern-day style icon.
"In terms of style, we think Meghan will choose one of his less opulent designs, but something that will still make an impact. We think a big skirt with a nipped-in waist would flatter Meghan's petite figure, and a cute pocket detail in the skirt would create just the right amount of modern detailing.
"We have noticed that she favours high necklines, so we think a high illusion neckline would work well for her, and a sleeveless design would ensure the gown was the perfect mix of modest and cutting edge. Although lace has been a popular choice for royal weddings, we think Meghan might choose something a little bit more on-trend, which is why an applique design might be a more interesting option."

6. Stephanie Allin, Couture Bridalwear Designer
Stephanie Allin thinks Meghan will wear a dress that's fitted at the front with a wide skirt at the back, as shown by this sketch. With V-neck and back floral detailing, the gown is dramatic but demure.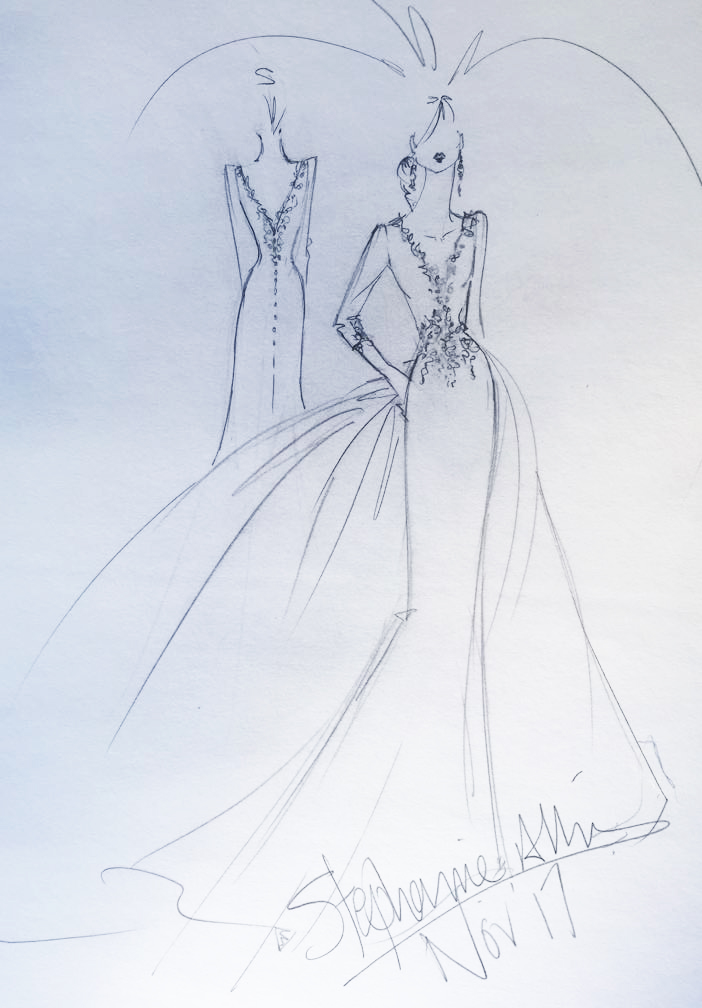 (Stephanie Allin/PA)
Not that we'd be privy to what's beneath the wedding gown, it's certainly another very important element; inspired by gold filigree, the Evie bra by Edge o Beyond is a delicate creation to enjoy. Their Evie range is perfect for a honeymoon or wedding night with 24K gold embellished, gilt threaded French lace eyelash demi. It's exquisite.